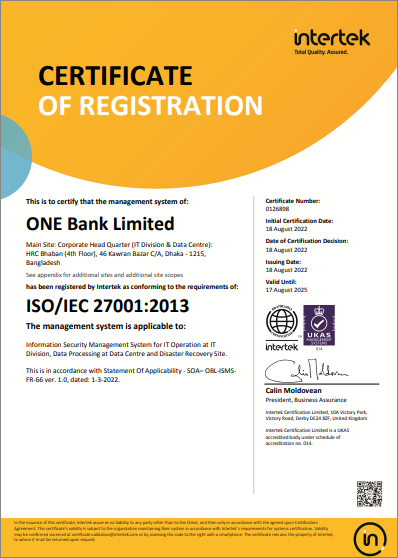 ISO/IEC 27001:2013

...we are now certified!!!
OBL has achieved a significant milestone in ensuring the highest standards of Information Security Management through successfully obtaining ISO/IEC 27001:2013 certification for our Information Technology Division. This achievement is in alignment with our commitment to safeguard sensitive data and maintain customer trust. Obtaining ISO/IEC 27001:2013 certification, demonstrates our dedication to implement a robust security control structure mitigating risks effectively across our Information Technology Services and Operations.

ISO/IEC 27001:2013 is a globally recognized standard for Information Security Management Systems (ISMS). By achieving ISO/IEC 27001:2013 certification, we reaffirm our commitment in maintaining the highest level of data protection for our customers. This accomplishment further testifies our continuous efforts towards reinforcing customer trust in our bank through ensuring security and safety of customers' sensitive information.